2022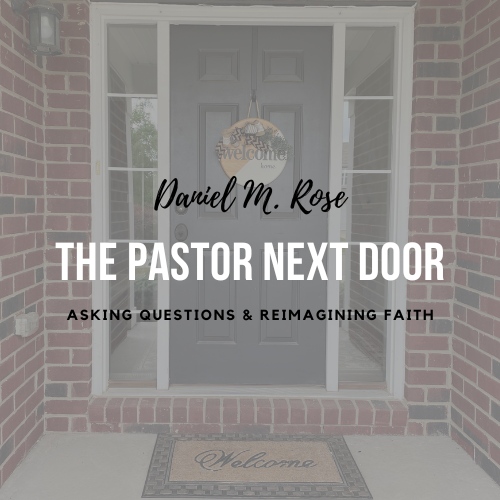 It was a beautiful Spring day and I was enjoying some time on the patio. When all of a sudden, Ethan rushed in, a bit flustered and frustrated.
"Dad, as I was coming into the neighborhood I blew my tire out."
We both took a deep breath and headed over to where his car was parked and began the process of changing the tire. The tire iron we had didn't fit his lug nuts. So, we knew that we needed to call our local mechanic, Brian. We rang him up and he gave us a few different tools to try.
None of them worked.
Our neighbor, Allan, popped his head out of his car as he was pulling into the neighborhood and offered up a piece of advice, "My car has this special adapter that I have to use to get the lug nuts off my wheels, maybe yours does?"
Of course! The lug nut key! It was in his glove box and before we knew it, we had the tire off and changed.
Sometimes, we need an expert's help on figuring out a problem. Sometimes, we need a neighbor's help to solve a problem. Do you know what's ideal? When you have both.
Some Context...
Many of us grew up going to church (or being dragged there) and some of us didn't. Some of us are in the early processes of discovering faith and some of us are questioning everything we believe.
Wherever we we are in the process, too often we believe we are alone to figure it all out. But, we're not.
The questions you have are the same ones that others have wrestled with over the years. I am coming to believe that a significant aspect of the human experience is to wrestle with the mysteries of our existence, to wrestle with the questions of ultimate meaning, and to wonder about the divine. Regardless of where one ends up, these questions, doubts, beliefs, and musings are the stuff that make life deep and rich and interesting.
It gets even more interesting (and dare I say, fun) when we tease these things out in community. That's what I want to try to create. I want to invite you into a community that is asking questions and re-imagining faith with the added bonus of a neighbor who is a bit of an expert on some of these questions.
If I have a problem with my car, I call Brian. When I have a question about real estate, I call Todd. When I have a question about interpersonal stuff, I call The Beard. Often, these calls take place in a bit of a broader community too. When these guys have questions about religion, spirituality, or faith they often call me.
Welcome to the Neighborhood!
The Pastor Next Door is an invitation to community and and invitation to access. Not all of us have a pastor next door that we can ask questions of whenever we want.
If you're reading this, you do.
I hope that you will engage by commenting on posts, becoming involved in a new Facebook Group that I will be launching soon, and joining me for live in person meet ups and virtual live gatherings. You can also sign up to block out one-on-one time with me.
To make a long post really short, come on over, pull up a chair and let's ask questions and re-imagine faith together.